7 Effective Steps for Managing Holiday Stress
The holidays can bring a lot of stress — high expectations, one too many parties, out-of town guests,…
Learning to manage stress is the first step to prevent overwhelm.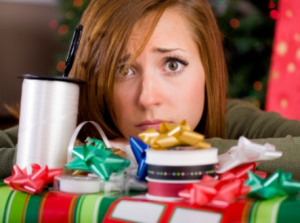 Try these seven steps to effectively manage holiday stress:
Get a good night's sleep.
Your body repairs itself during while you are sleeping. Most people need seven to nine hours a night, especially if you have an unusually busy day.Also, if you're more introverted, being around people constantly, whether it's crowded shopping malls, or a holiday party, you'll also need more rest and quiet time than usual.
Keep up your exercise routine.
It's easy to skip your workouts when you have a busy week. However, exercise helps you to use oxygen more efficiently and gets more oxygen to the brain. It'll increase your focus, which may help you see solutions to problems rather than simply worrying about them.  It can also increase your stamina as you rush from the office to shopping to home to parties, etc.If  you do have a major time crunch, try a high-intensity 10-minute workout you can do at home. (We recommend these fitness reports from Transform FX Fitness.)
Meditate.
Meditation isn't about chanting mantras. Meditation can be in the form of yoga.  Or you can take five minutes of deep breathing and clearing your mind.
Manage the worry.
When you feel your pulse start to quicken, count backwards from ten. As you count, focus on the situation. What has actually happened? Resist the urge to read anything more into the situation.
Limit your alcohol intake.
You might think that the glass of wine is relaxing your tension, but alcohol is actually a depressant. In can also be harder to face another busy day if you're recovering from a long night.
Enjoy relaxing activities.
Stress, noise, people can rob you of your energy. Do something you enjoy that's relaxing as well like painting, reading or listening to music.
Pre-book your massage.
Look forward to time just for you by scheduling your massage early.  Think about it as a reward for getting through a stressful holiday season!
It's no wonder that a time that's meant for giving and celebrations, we might forget to take care of ourselves first.  Prevent as much holiday stress as possible by taking these seven steps.
What's your favorite way to prevent holiday stress?
https://loosenupbodywork.com/wp-content/uploads/2012/11/holiday-stress-management.jpg
223
300
Walnut Creek Massage
https://loosenupbodywork.com/wp-content/uploads/2023/03/Loosen-Up-LogoName-Header-Transparent-1020-stacked3-300x138.png
Walnut Creek Massage
2013-11-05 00:00:30
2019-05-20 11:33:47
7 Effective Steps for Managing Holiday Stress