With the French open in full swing, I thought it would be fun to give some tips on recovering from sports with some specific examples if you play tennis.
Many sports require excessive single sided use without a good option for training to develop our non-dominant side.  Tennis is a perfect example. If your sport if choice requires lots of single sided use, then warm up and stretching will be even more important for you.
Warming up pre-practice and light stretching afterwards, however minor it may seem, makes a significant difference in how we recover. A good warm up will provide fresh fluids to your muscles to lubricate them and provide the compounds necessary for proper performance.  Elasticity is also increased post warm-up, which will reduce your risk injury.  Here's a simple example of a warm up routine: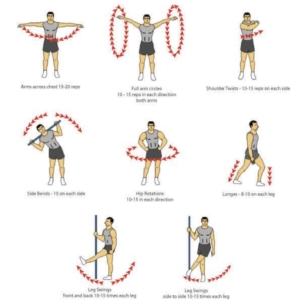 The stretching piece rings your muscles out of all the used up fluids that are now oxygen poor and rich in metabolic wastes.  That fluid is replenished when your stretch is released once again with nutrient dense fluids to aid your muscles in recovering.  There is a second added benefit of reminding your central nervous system of your full range of motion.  Pecs and adductors are highly used in tennis; here are a couple of good examples of how to stretch those:
We always love giving our clients tools to help them recover from the sports they enjoy, so if you would like to have a specific routine for your particular sport, schedule your appointment today.  Keep moving and we hope to see you soon.
https://loosenupbodywork.com/wp-content/uploads/2019/02/photo-1519823551278-64ac92734fb1-2.jpeg
750
500
Walnut Creek Massage
https://loosenupbodywork.com/wp-content/uploads/2023/03/Loosen-Up-LogoName-Header-Transparent-1020-stacked3-300x138.png
Walnut Creek Massage
2019-06-07 15:00:45
2019-06-07 15:00:52
Single Sided Sports Recovery