Loosen Up Bodywork Holiday Updates
Raffle for Food Bank Donations
We're building on a "tradition" that we started last year, as we continue our partnership with the Contra Costa Food Bank in hosting a Food Drive again this year.   Just bring in your non-perishable food donation to our Food Barrel in the office. We'll also again be holding a raffle for free 60-minute massages and lots of other goodies.**
Or, if you prefer, we have also set it up as an online fund-raiser to make it even easier to donate funds.  Just follow this link: 
www.foodbankccs.org/loosenupdrive
.
**Receive 1 Raffle entry for every $5 – or each food donation.
Gift Card Special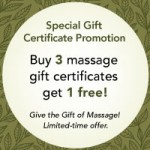 We do only one Special Price promotion a year, and this is it!  Our annual Gift Card Sale is now underway. From now through December, you may  buy 3 Gift Cards (any denomination) and get the 4th one FREE!
Please note this must be purchased in person (or by phone.) It is not valid for online Gift Card purchases.
Seniors Discount
Our Senior clients receive a 10% discount off our regular prices. Please let us know if you qualify.