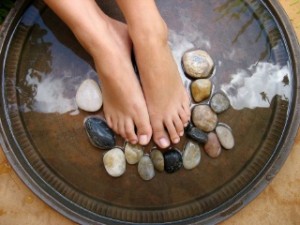 If you work all day standing or walking, you can feel exhausted at the end of the day with sore and tired feet. Here are some tips to take great care of your feet and feel more refreshed in the afternoon.
Comfortable Shoes
Wear supportive, comfortable shoes with flexible soles. If you can't wear athletic shoes at work, see your doctor, podiatrist or chiropractor for advice on custom foot support for your shoes.
Water Exercise
Instead of running or walking, try adding swimming or water aerobics to your exercise program. You'll get a great overall body workout without adding further stress to your feet and legs.
Relaxing Foot Bath
At the end of your work day, soak your feet and ankles in warm water with Epsom salts and a few drops of essential oils like peppermint, eucalyptus, and/or rosemary. Enjoy this refreshing soak for at least 10 minutes and allow the warmth, salts and oils relax your muscles.
Self-Massage for Your Feet
Use a massage ball or even a golf ball to massage your soles of your feet. While you're sitting, step on the ball, and roll it under your feet. Adjust the pressure as needed by slightly lifting your leg. Notice if there are any tender or tight spots. Roll the ball slowly to massage your feet.
Therapeutic Massage for Your Feet & Legs
Nothing beats a therapeutic massage by a skilled massage therapist. Book a regular massage for the ultimate self-care for your feet and legs.
https://loosenupbodywork.com/wp-content/uploads/2012/03/foot-bath.jpg
240
320
Walnut Creek Massage
https://loosenupbodywork.com/wp-content/uploads/2015/04/Loosen-Up-Logo-Header.jpg
Walnut Creek Massage
2012-03-20 06:50:48
2012-03-20 06:50:48
Self-Care for Your Feet & Ankles