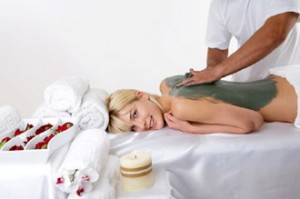 Spring is a great time for clearing out the cobwebs that have collected over the winter, not only in our homes but in our bodies as well. The warmer weather and extra sunlight provide the perfect environment to increase your body's own natural detoxifying abilities.
A body wrap or scrub can kick start that process and get you on track for being bathing suit ready by summer. I used to think of body wraps as a fluffy, luxury treatment.
But after teaching hydrotherapy for the last three years and going on a kind of "favorite body wrap hunt" myself, I've realized that they are another powerful tool to help people achieve their health goals. The days of the body wrap being the main focus of a treatment are over.
Now you can add a wrap to any massage service. It costs $20 more and only takes 30 minutes total from your session.
Some of the benefits you may experience include the release of metabolic wastes and toxins, smoother, more even toned skin, a boost to your immune system and much more.
When you get a wrap from Loosen Up Bodywork, you also get the same therapeutic massage treatment you expect. The wrap is simply an added service with the focus still being on keeping you pain free.
https://loosenupbodywork.com/wp-content/uploads/2015/04/Loosen-Up-Logo-Header.jpg
0
0
Walnut Creek Massage
https://loosenupbodywork.com/wp-content/uploads/2015/04/Loosen-Up-Logo-Header.jpg
Walnut Creek Massage
2012-04-20 09:15:41
2013-07-22 09:07:03
Spring Cleaning for Your Body