Expanded Booking and Appointment Procedures to Ensure a Safe Environment
We are excited to say that we are officially open! This has been a very long road and we could not have done it without the support of our staff, client, and complementary health communities. I have been amazed at just how many people have come together to create avenues to efficiently receive new information as it comes out, and I am very confident in the processes we have established to create a space that is as safe as possible in this moment. The situation continues to evolve and we may have to modify as we go, but I am very prepared to do so in an open and ethical way.
Session Process
We've kept you informed of our new processes and protocols through our previous emails, and that information is still up on our website, if you'd like to review it. All of our team members are also prepared to answer any questions you may still have, because we want to be as transparent as possible, so you can make an informed decision on whether bodywork is right for you at this time.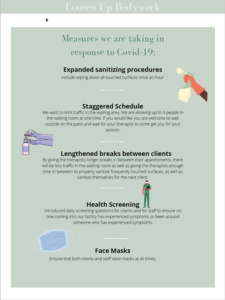 (Click image to learn more about our new procedures)
Although your sessions may feel a little different in the beginning, you will soon recognize that the results are still the same!  We do understand that everyone has a unique health profile and we want you to know we are still not recommending all types of body work for all types of clients, but we do want to have the conversation with each of you, so please reach out. We have all been deprived of touch for so long and we massage therapists speak the language of touch better than anyone.
Scheduling
We are at the office staffing phones and emails, and we can't wait to hear from each of you!
We want to express so much love, so much appreciation, and all our gratitude for the work our communities have put in to get us to this point.
We are sending you all virtual hugs!!!!
See you soon!
Gina
https://loosenupbodywork.com/wp-content/uploads/2020/10/Safety-2020-10-11.jpg
800
601
Matthew Spaur
https://loosenupbodywork.com/wp-content/uploads/2023/03/Loosen-Up-LogoName-Header-Transparent-1020-stacked3-300x138.png
Matthew Spaur
2020-06-26 19:13:49
2020-10-11 09:58:27
Expanded Booking and Appointment Procedures to Ensure a Safe Environment