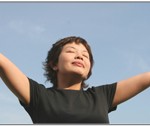 Stress is not necessarily a bad thing, and can actually be a stimulus for
positive change and growth. But excess stress can be detrimental. Here
are some tips that can help you reduce the effects of stress in your life.
1. Set boundaries at work and home. Remember one person can only
do so much. Choose to let some things go and give yourself wholeheartedly
to those you keep. Encourage yourself to say "no" when
you need to.
2. If possible, take action to change situations that are troubling you.
Know when to face up to the things that are causing you anxiety and
when to let things go. Ask for support if you need to.
3. Set aside time to talk to your family and friends about your concerns.
Let them know you are feeling anxious or pressured. Use "I" statements,
for example, "I feel stressed. I have deadlines at work and feel
I can't keep up at home." Your loved ones will appreciate the chance
to lend a hand as opposed to being blamed.
4. Honor a time and space for your own relaxation. Be willing to "stop
the world and get off" even it's only for half an hour after work every
other day or a two-hour walk once a week. Make a commitment to
yourself that nothing encroaches on.
5. Try new things, like a new, nutritious and tasty food — or even a new
bodywork technique like Reiki or stone massage!
6. Assign yourself a time to "fret." Then get on with your day-to-day
activities with enthusiasm.
7. Take a painting, writing or photography class. Check the newspaper,
colleges, community centers and bulletin boards to find one.
8. Take your breaks at work. Get outside for a walk or do simple
stretches for 10 minutes.
9. Laugh. Watch comedies and read humorous books. Get together with
people who know how to look at life on the light side.
10. Take a weekend, or just a morning, away from your obligations and
worries. On your getaways, leave work and worries behind. If that's
difficult, try writing down your worries or "to-do's." Then tuck the
list away, knowing you can get back to it after your time away.
11. Express your creativity. Write down your memories, grow flowers
and herbs, or knit a sweater.
---
Loosen Up Bodywork
provides the highest quality service by educating our clients on how to best utilize our services and products that are available. We have multiple online resources and our phones are answered by our therapists so you can always reach a trained professional to answer your questions.
Our goal is to empower our clients to take charge of their own health and wellbeing. With our therapists vast knowledge in various natural health treatments, we can assist you in finding the best modalities to match your unique body.
Visit our services page to see how we can partner in cultivating health and wellness in to your life @ https://loosenupbodywork.com/services/massage/
https://loosenupbodywork.com/wp-content/uploads/2015/04/Loosen-Up-Logo-Header.jpg
0
0
Walnut Creek Massage
https://loosenupbodywork.com/wp-content/uploads/2015/04/Loosen-Up-Logo-Header.jpg
Walnut Creek Massage
2011-08-03 08:35:00
2011-08-01 12:43:37
Lifestyle Recommendations