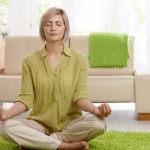 Relaxation is key to reducing excess stress and its effects. Here are some ideas which may help.
1. Get an extra massage. When you relax with massage, you let go of muscle tension, worry and mental confusion. This may be one of the few times you slow down and notice what it feels like to relax. This actually helps you program yourself to tune into those feelings and encourage your body and mind to let go of stress and tension.
2. Practice focused relaxation. Sit comfortably or lie down with your knees bent and feet flat on the floor. Support your neck with a pillow if you prefer. Scan your body, noticing where you feel tension or discomfort. Breathe slowly into these areas. Imagine relaxation flooding into the areas of discomfort. Begin by practicing ten minutes once a day.
3. Meditate. You will probably have a better chance of sticking with a technique you learn in a class or other group, but in the meantime, try this. Silently repeat a word that has little emotional meaning for you, such as "one." Give it your full attention. When other thoughts or images come into your mind, ignore them and return your focus to the unspoken word. Don't strain or try too hard. Simply let your mind keep coming back to your chosen word again and again as thoughts pass through your mind.
4. Practice abdominal breathing. Inhale slowly through your nose. Exhale completely, squeezing the belly tight. Begin by practicing for 5 minutes at a time. Try it when you feel anxious or can't sleep.
5. Soak in a hot bath. Add several drops of essential oils like lavender or ylang-ylang for relaxation. Or just soak your feet. Add Epsom salts to a bathtub or basin of warm water and enjoy!
6. Try biofeedback. A professional biofeedback practitioner can help you develop self-regulation over the mental and physical processes that are associated with stress-related disorders.
7. Take a nap, even if it's only for ten minutes.
8. Take a warm shower. As the water rushes around your neck, drop your neck forward and stretch it from side to side. Then circle your shoulders slowly under the hot water.
9. Try auto suggestion. Frequently repeat a suggestion to yourself such as "Shoulders free" or "Neck relaxed." Repeat the suggestion, but don't strain or do anything at all but say the phrase. This plants an idea which may gently support muscle relaxation.
10. Take a yoga class. Many people find yoga increases relaxation and relieves many of the effects of stress.
---
Loosen Up Bodywork
provides the highest quality service by educating our clients on how to best utilize our services and products that are available. We have multiple online resources and our phones are answered by our therapists so you can always reach a trained professional to answer your questions.
Our goal is to empower our clients to take charge of their own health and wellbeing. With our therapists vast knowledge in various natural health treatments, we can assist you in finding the best modalities to match your unique body.
Visit our services page to see how we can partner in cultivating health and wellness in to your life @ https://loosenupbodywork.com/services/massage/
https://loosenupbodywork.com/wp-content/uploads/2015/04/Loosen-Up-Logo-Header.jpg
0
0
Walnut Creek Massage
https://loosenupbodywork.com/wp-content/uploads/2015/04/Loosen-Up-Logo-Header.jpg
Walnut Creek Massage
2011-07-27 08:30:48
2011-08-01 12:07:07
Ten Ways to Relax